<![if !vml]>

<![endif]>
11 November 2016
Attn : To Our Value Customer
We are sorry to inform, Due to unforeseen circumstances, OfficeA2Z website was down for maintenance. Unfortunately we are still unable to advise when the website can be up. We are working diligently to get our website up soon. We will be sending regularly updates on the status. Thank you for your patience and do accept our sincere apology for any inconvenience caused.  
We hope to still be able to serve you in all possible ways. Meanwhile, should you need to make any order, please do fax or email to us so we can make the necessary arrangements. 
Contact info
Hunting line    : 03-5569 3322
Fax                 : 03-5569 3312/16
Email              : general@pacificoffice.com.myor sales@pacificoffice.com.my
Again, Thanks you in advance for your patience and understanding in this matter. 
Yours Sincerely,  
Alex Tan
General Manager - Sales
<![if !vml]>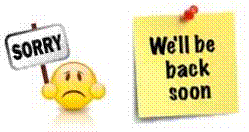 <![endif]>